Collection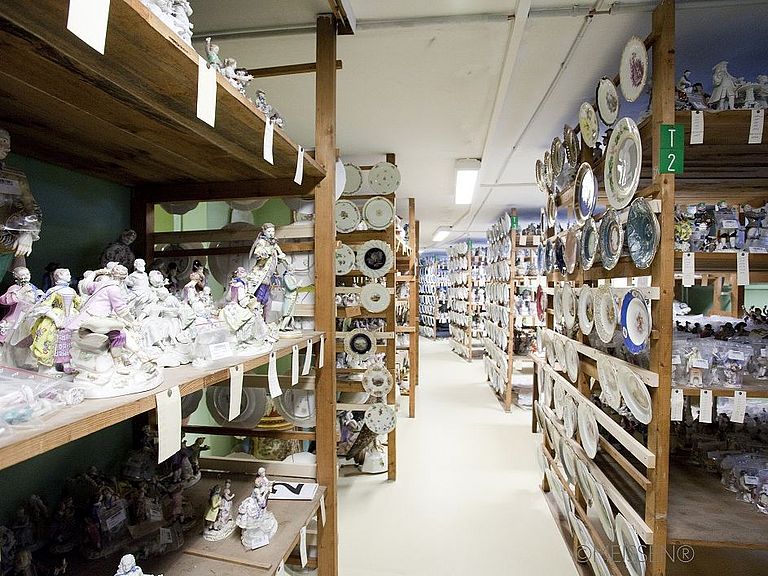 View inside the Meissen Porcelain Foundation storeroom
From the earliest beginnings to the present
The Manufactory's comprehensive collection holdings have accumulated in the course of work produced over the past 300 years and more and still serve its modellers and painters as source models today. Few porcelains from the 18th century date from the year they were first modelled. They are reproductions made so they might be preserved or used as source models. The bulk of porcelains cast the same year as they were modelled are from the 19th and 20th centuries.
View inside the Manufactory archives
Research on Meissen porcelain
The collection held by the Meissen Porcelain Foundation is, moreover, a key plank in research into Meissen porcelain. It is possible by combining assessment of these holdings with analysis of documentary material contained in the archives to draw conclusions of an economic and socio-political nature. Scholars from all over the world consult the Meissen Porcelain Foundation and the Meissen Porcelain Manufactory and are afforded access to archive files or permitted to enter the Foundation storeroom, or both.
The Meissen Porcelain Museum
The Meissen Porcelain Museum is that section of the Meissen Porcelain Foundation's collection holdings placed on public display. The viewable collection provides a globally unique survey of the overall evolution of Meissen porcelain. The collection holdings are presented in changing theme exhibitions run in the Museum. The Museum is a vibrant setting in which Manufactory staff and porcelain fanciers and pundits alike can expand their horizons through learning, comparison, examination and research.